The 2021 Global Agricultural Productivity Report Published 
PRODUCTIVITY MUST IMPROVE TO MEET FUTURE DEMAND
November 1, 2021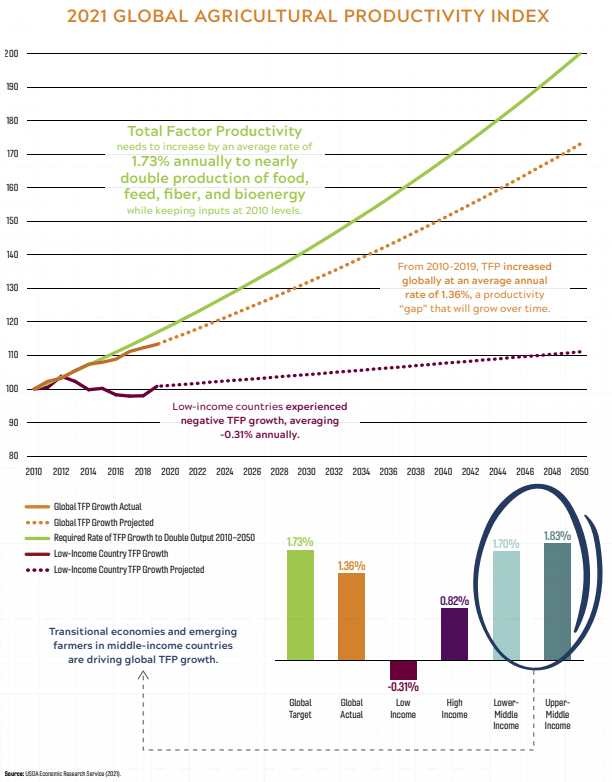 The 2021 Global Agricultural Productivity (GAP) Report was recently published by the Global Agricultural Productivity Initiative at Virginia Tech College of Agriculture and Life Sciences (CALS). As a partner of this research, Mosaic was featured for our promotion of 4R Nutrient Stewardship.
This year's report found:
Productivity remains the primary driver of agricultural growth, but it is not growing as fast as previously thought.
Globally, TFP grew by an average of 1.36% annually (2010 to 2019), well below the Global Agricultural Productivity Index™ target of 1.73%. (USDA ERS, 2021)
The productivity trends in low-income countries, where many small-scale producers live, are particularly troubling.
Climate change is complicating matters even further, slowing productivity growth globally by 21% since 1961.
This year's GAP Report underscores Mosaic's mission driven operations. We believe it is our responsibility to contribute positively to global food security and the core of our business to promote sustainable farming practices and innovative growing solutions.
Read the report to learn more: https://globalagriculturalproductivity.org/
The GAP Report is produced by the Global Agricultural Productivity Initiative and CALS Global in the Virginia Tech College of Agriculture and Life Sciences (CALS). In addition to producing this annual assessment of global progress toward productive, sustainable agricultural systems, the GAP Initiative creates opportunities for collaboration and learning between its partners, the university, and stakeholders worldwide. The GAP Initiative brings together experts from the private sector, NGOs, conservation and nutrition organizations, universities, and global research institutions.