Our Responsibility to Contribute Positively to Global Food Security
RISING TO THE CHALLENGES, TOGETHER
June 13, 2023
Mosaic's mission—and the purpose behind all we do—is to help the world grow the food it needs. Fertilizer products are responsible for more than 50% of crop yields, and as one of the world's leading producers of concentrated phosphate and crop nutrient products, we have a responsibility to contribute positively to global food security. We continue to live our mission and help fight food insecurity in our communities – and around the world.

As the global population reaches 8 billion, agriculture is facing challenges that are bigger than any one company can solve. It requires collaboration across every facet of the industry including businesses like Mosaic, but also, academia and researchers, government, and farmers. Agricultural productivity, 4R Nutrient Stewardship and community support are just some of the key ways we are making strides to battle food insecurity.
Agricultural Productivity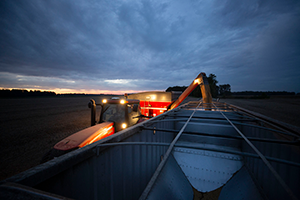 Eliminating food insecurity in our communities is critical, but we also need to ensure that there is food supply for growing demand. As the global population increases, growers must increase yields by 70% in order to meet demand. Mosaic's products help growers achieve key agricultural outcomes, including increased yields. Mosaic is also on the leading edge of innovative solutions that address agricultural challenges and contribute to the resilience of agricultural systems – like improved soil health, reducing nutrient loss, and other factors.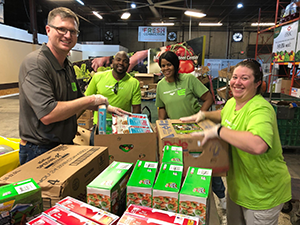 Community Support
In 2020, Mosaic, The Mosaic Company Foundation, and the Mosaic Institute in Brazil donated more than $14 million toward these efforts, of that, more than $3.5 million toward food security programming and $9 million in local support to help our communities thrive. Mosaic contributes to food programming in the communities where we operate - and where our employees live - through local food drives, food distribution trucks, neighborhood food pantries, school backpack programs, and nutritional education. However, our financial support is magnified by volunteerism and community involvement. We have an engaged workforce globally that impact their communities through philanthropic efforts. Learn more about our approach to community investments.
Mosaic's passion for global food security goes beyond agricultural productivity and community investment, we are a signatory to the United Nations Sustainable Development Goals commitment toward zero hunger. And as a company, we have a framework for making sure we are accountable and moving forward on our sustainability journey to help achieve those goals. In 2020, we developed bold Environmental, Social, and Governance (ESG) Performance Targets which helps to ensure we are reducing food insecurity, but also focusing on four key areas: People, Environment, Society, and Company. As a mission-driven organization, helping the world grow the food it needs will always be our motivation for doing what is right for our communities everywhere we operate.