Supporting Communities Where We Live and Work
MOSAIC LAUNCHES NEW GIVING PROGRAM FOR ITS NORTH AMERICA WORKFORCE
February 22, 2021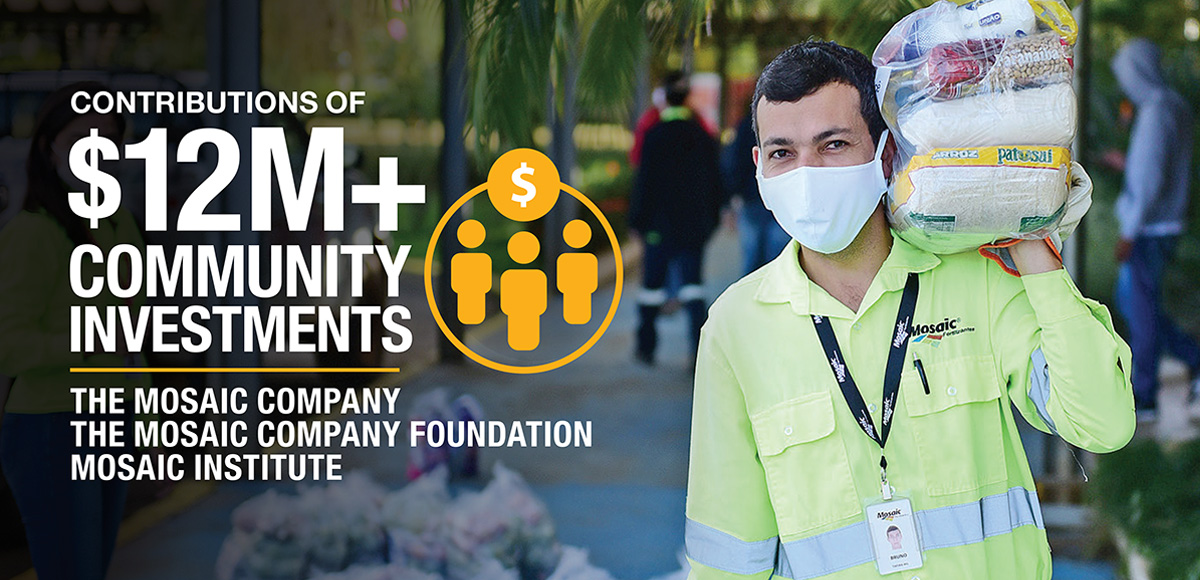 Giving back to the community is an important part of how we do business at The Mosaic Company. Together with The Mosaic Company Foundation and The Mosaic Institute in Brazil, we donate more than $12 million toward community investments every year. We are fortunate to have an engaged workforce who continue to demonstrate the power of our mission by giving their time, talent and financial resources to help those in need in the communities where they live and work.
Building on that strong foundation and commitment from our employees, we recently launched a new employee giving program which provides our North America workforce the opportunity to further support organizations that matter most to them – through matching financial contributions and incentivized volunteer activity. This shift from a more traditional single organization, annual workplace giving model to a more flexible year-round one allows us to support the generosity of our employees by supporting the organizations that are important to them.
North America's new program echoes the work already occurring in South America. Mosaic Fertilizantes launched an updated volunteerism program in late 2019. Since then, employees have volunteered more than 15,000 hours of their time, donated more than 300 tons of food to communities in need, and since the start of the pandemic, helped provide much needed support to more than 100,000 people by donating food and household kits with personal necessities.
"Living our mission is more than providing crop nutrients to help the world grow the food it needs," said Ben Pratt, Senior Vice President – Government and Public Affairs, "Our communities are also our homes – where we live, work and raise families. We strive to be thoughtful and engaged neighbors who proudly support the communities in which we operate through corporate and local giving and volunteerism."
In 2020 we developed aggressive Environmental, Social, and Governance (ESG) Performance Targets focused on four main areas: People, Society, Environment, and Company. Learn more about Mosaic's commitment to the communities where we operate, including our goals on corporate giving and employee-based support.