NextGEN Technology Revolutionizing Mosaic Operations
INNOVATIONS DRIVE TRANSFORMATION IN NORTH AMERICA
April 14, 2021
Mosaic's six strategic priorities provide an important framework for how we are creating long-term value for our many stakeholders. In 2020, our North America operations completed the final steps in a multi-year plan toward achieving transformational changes, driving efficiencies and competitiveness for the business. This included identifying investments in innovations that revolutionize our operations. Our Esterhazy K3 Project signifies the future of potash with industry-leading automation and process controls, and the new Integrated Operations Center up and running at our FishHawk office will serve as "mission control" for our Florida mining operations.
Innovation is part of everything we do at Mosaic. We're using technology to find new ways to manage risk, minimize our impacts and maximize the value we deliver to our team, customers and diverse stakeholders around the globe. For the North America team, "NextGEN" is the term we are using for that technology-driven change, which is focused on four key areas: Integrated Operations Centers, Modeling and Analytics, Automation and Process Controls, and Process Digitization.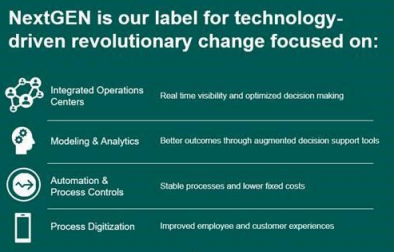 NextGEN technology helps keep our employees safe, monitors the health and performance of our equipment, optimizes decision making, and improves coordination across our operations. Two focus areas of our NextGEN work – Integrated Operations Centers and Automation and Process Control – are coming together in new ways as we continue using technology to transform our business.
"Being able to remotely operate equipment allows our employees to work in safer, more comfortable conditions where they have access to all the information and resources they need," explains Chris Hagemo, Sr. Director, Digital Strategy. "Automation allows us to reduce repetitive, tedious tasks and those involving potentially hazardous work so our employees can invest their time and talent in safer and more engaging work."

Automation plays an important role in operations at Esterhazy's new K3 mine, allowing employees who worked in close proximity with mining machines to operate and monitor them from a safer distance or focus on other work.
Mining machines are running without human intervention – with advanced instrumentation and programming we can keep the machines straight. As the mining machines advance, another automated machine installs hardware to build the conveyor belt used to transport ore from the mining areas to the surface. Running these machines without human intervention eliminates downtime, as they can safely operate 24/7.
Also being piloted in Esterhazy and at our Bartow facility in Florida is condition-based monitoring (CBM) technology which allows employees to automatically monitor the health and performance of equipment without manual data collection, which helps to more accurately predict and prevent problems.
NextGEN technology is crucial to the continued success of our business for many reasons but is crucial for driving the transformation of our North America Business and supporting our strategic priorities.