Mosaic Renews Commitment to Wanuskewin
INVESTS $500,000 TO SUPPORT HISTORICAL SITE DESIGNATION
May 9, 2023
Mosaic has renewed its commitment to Wanuskewin, providing another $500,000 funding to support the National History site's goal to become a designated UNESCO World Heritage Site. In 2018, Mosaic donated $500,000 to Wanuskewin for its Thundering Ahead Capital Campaign.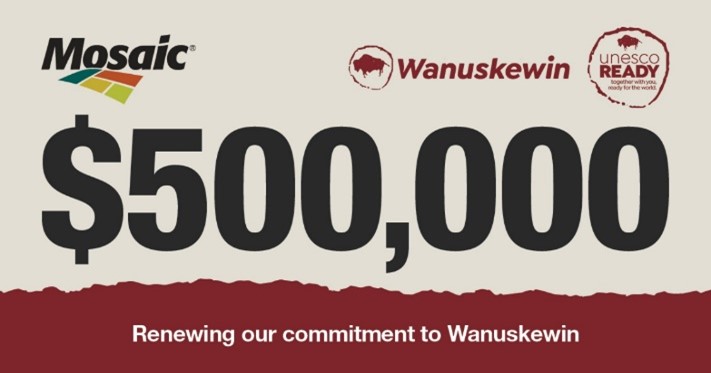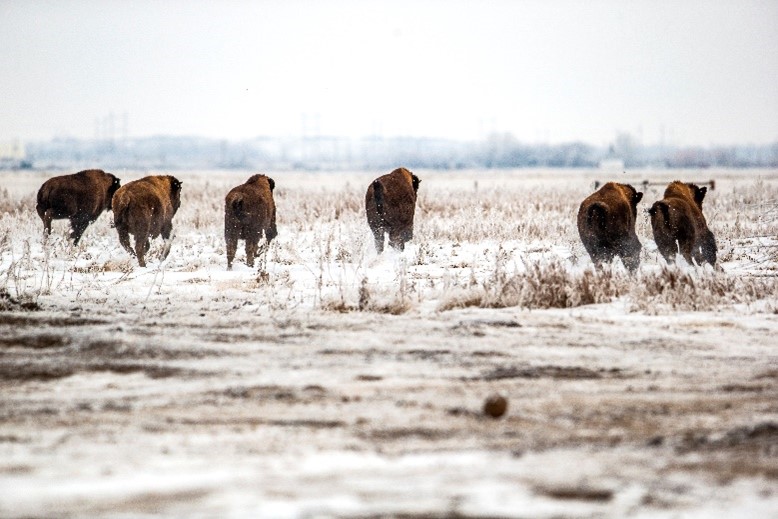 Wanuskewin is home to a herd of Plains Bison.
Wanuskewin, is located outside the city of Saskatoon, and shares the distinct and diverse history of the Northern Plains Indigenous Peoples who have gathered at this site for hunting, trade and ceremony. This land holds many stories and through the enormous contributions, leadership and guidance from Indigenous Elders and Knowledge Keepers as well as ongoing archaeological research, Wanuskewins' stories continue to come alive for visitors to this Sacred Site.
"Wanuskewin Heritage Park is a cultural jewel in Saskatchewan – with so much more to uncover," said Bruce Bodine, Mosaic's Senior Vice President - North America. "Mosaic is ready to support Wanuskewin's bold plan to earn the first UNESCO World Heritage Site designation in Saskatchewan. This renewed support builds on Mosaic's commitment to the Heritage Park's Thundering Ahead Campaign – bringing our total support to $1 million dollars. Mosaic is here, together with Wanuskewin and Saskatchewan, on the road to UNESCO."
Wanuskewin hopes to achieve UNESCO World Heritage Site status, and Mosaic is proud to be part of that process.
In May 2023, alongside Wanuskewin, Mosaic announced it would be spending half a million dollars over five years towards Wanuskewin's UNESCO Ready Campaign.
For the past 30 years, Wanuskewin has served as a gathering place for visitors worldwide, including Queen Elizabeth II, to learn about the Northern Plains Indigenous peoples' way of life and traditional practices. Wanuskewin is Canada's longest-running archaeological dig, and the area features an interpretive centre, 19 pre-contact sites, a medicine wheel, tipi rings, buffalo jumps, and 7 kilometres of walking trails. The area is now home to a herd of Plains Bison and an award-winning restaurant featuring First Nation's cuisine.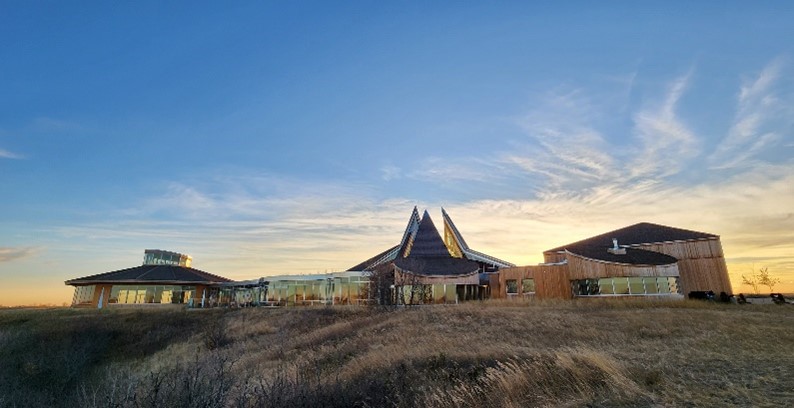 The Interpretive Centre at Wanuskewin recently underwent renovations and an expansion that features gallery spaces, conference and event space, and a restaurant with locally inspired entrees.