Mosaic Employees Develop Innovative Solutions to Protect People, Environment
SIX PROJECTS RECOGNIZED FOR ELIMATING RISK
June 7, 2021
One of Mosaic's strategic priorities is to Act Responsibly. Our approach is simple: minimize risks and impacts and maximize value to our diverse stakeholders. We focus these efforts in four areas: People, Environment, Society, and Company, to promote good stewardship of the natural, human, and social resources we rely upon.

To consistently make progress, in 2020 we announced bold Environmental, Social, and Governance (ESG) Performance Targets, which include critical goals to further improve safety and wellness. Our highest priority is to provide our workforce of nearly 12,000 hardworking people with a safe, healthy, and respectful work environment.

We put employees in the driver's seat to identify and address frontline hazards with an initiative called the Risk Reduction Program. Last year we celebrated three projects from 2019, and since the launch of the program more than 1,700 projects have been completed. Engagement in the program garnered recognition throughout the company and has resulted in our achieving safety and risk reduction targets tied to employee total compensation and incentive plans.

This year, we celebrate six impactful projects from 2020:

Innovation Risk Reduction
Projects in this category impact entire site locations, bring new technology to Mosaic or utilize an existing technology in a new way, and/or projects that eliminate worker exposure and risks.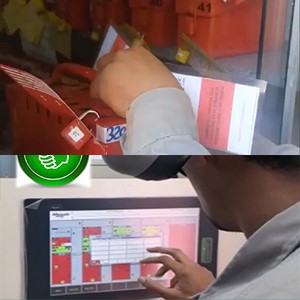 Catalão, Brazil: Digital Lockout Tagout System
The team developed and implemented a digital system for lockout and tagout for electrical equipment, eliminating risk and improving automation. The team in Catalão identified an outdated procedure for maintaining this equipment using a system with padlocks and keys. This system had many risks associated with it, including, at worst, potential for electric shock and arc, but ongoing issues like time inefficiency and ergonomics. The digital system overrides the electrical system and eliminates the risk of shock - protecting employees, reducing time inefficiencies by 62%, and eliminating ergonomic risks.

Runner-up: Carlsbad, New Mexico – Portable Fall Protection System
The team implemented a portable fall protection system to improve safety when working at heights. This system is mobile and can be sized dependent on the project.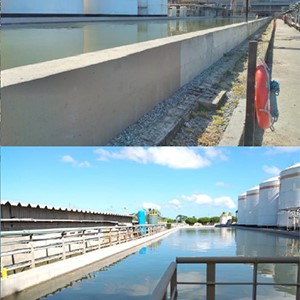 Elevating Environment
Projects in this category should be efforts to go beyond regulatory requirements toward environmental stewardship and should elevate Mosaic's sustainability goals and ESG Performance Targets. This may include waste reduction, energy or water savings, wildlife conservation, etc.

Fospar, Brazil – Rainwater Collection System
Mining is a water intensive effort, and one of Mosaic's ESG Performance Targets is to reduce freshwater use by 20% per tonne of product by 2025. The team developed a centralized system for collecting rainwater to use instead of freshwater. The area has significant rainfall which also caused flooding concerns for the facility. This project created collection points to a centralized pool, saving more than 110 million litres (or approx. 30 million gallons) of freshwater per year, amounting to 70% of water use at the Fospar facility.

Runner-up: Bartow, Florida – Ammoniated Pondwater Elimination
The team took a large cross-functional approach to reducing their site usage of freshwater in their process. This site committed to large scale equipment improvements to ensure the plant's ball mills would be able to use raw pondwater instead of freshwater within the process. This allowed for an annual savings of 300 million gallons per year of freshwater at the Bartow location. Bartow is celebrating a new record low of freshwater use this year, and continues to innovate and use water wisely.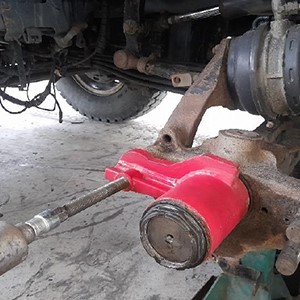 Hand Safety Impact
Projects in this category reduce or eliminate the risks of hand injuries – which was one of the highest recordable injuries at Mosaic.
Cajati, Brazil: Pneumatic Tool Eliminating Use of Hammers
When maintaining mining trucks, in order to remove part of the brake system, mechanics needed to hit a 5.5 lb sledgehammer against the brake chamber arm to loosen it free. In some instances, more than 170 manual strikes over five minutes were necessary to do this. Ergonomic and task exposure risks, which included crushed fingers and hands and the strenuous physical demand, where chief concerns. But also, the risk of inadvertently damaging equipment, flying debris, and inefficiencies were challenges associated with this rigorous maintenance task. So the maintenance team developed a simple but very effective removal device internally. A pneumatic tool connects to the device allowing the bushing to be removed in less than a minute, without the use of any kind of hammer.
Runner-up: South Fort Meade, Florida – Forklift Fork Adjustment Tool
When operating a forklift, there are inherent risks when maintenance of the fork is required. The team in South Fort Meade wanted to find a way to reduce the likelihood of hand injury in the process. Best practices were shared from the South Pasture, Florida, facility, including an idea for a tool that was never engineered. The teams came together to develop a simple, but effective adjustment tool that removes risk to the employee when maintenance on the fork is needed.
The innovation and ingenuity of Mosaic employees and their commitment to safety was reinforced this year by the National Safety Council, which honored us with the 2020 Robert W. Campbell Award - the prestigious, international award celebrates our 10-year journey in EHS excellence. We continue to celebrate these important milestones at Mosaic, but we believe our journey to zero injuries and incidents is always ongoing and should be top of mind for all of our teams. Learn more about our ESG Performance Targets and our approach to worker wellness and safety.