Meet the MicroEssentials Harvest Heroes Winners
WE HELP THE WORLD GROW THE FOOD IT NEEDS, AND IT TAKES A COMMUNITY TO MAKE HARVEST HAPPEN
December 18, 2019
This fall, Mosaic hosted a contest called "Harvest Heroes" through our MicroEssentials
®
fertilizer brand. Growers across the country were invited to nominate their Harvest Heroes to acknowledge those who go above and beyond to make the harvest season successful.
Meet three of the 10 Harvest Heroes making meaningful, positive impacts in their community: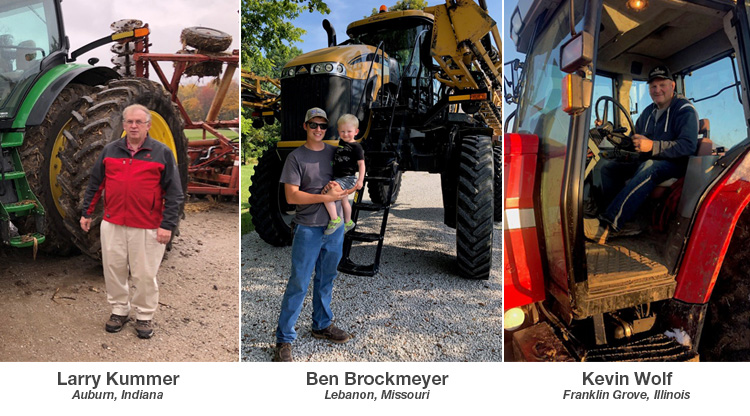 Larry Kummer from Auburn, Ind., organized nine harvests this fall for families facing injury, illness or death before or during harvest. Larry contacted neighbors with combines, grain carts and trucks along with providing his own equipment and time to relieve the families of the stress of harvest during their difficult situations. According to Larry's nominator, he has a "heart for helping others in times of need."
Ben Brockmeyer from Lebanon, Mo., raised money through local grain donations for a fellow custom harvester/farmer who was recently diagnosed with brain cancer. Through Ben's efforts, the farmer received more than 9,000 bushels of corn and 750 bushels of soybeans.
Kevin Wolf from Franklin Grove, Ill., was nominated by his daughter Megan. She wrote: "My Harvest Hero is my Dad. From a very young age, all I remember is his dedication to our family farm. He works full-time outside the farm and spends every other moment in the field. We go to bed and he is out there, and when we wake up, he is already up and getting it all done. He is the hardest working person I have ever known."
Congratulations to the 10 winners of the MicroEssentials® Harvest Heroes contest:
Randy Arends — Melvin, Ill.
Ben Brockmeyer —Lebanon, Mo.
Keith Champlin — Holcomb, Mo.
Larry Kummer — Auburn, Ind.
Kurt Kummerfeldt — Nashua, Mont.
Gary Michel — Evansville, Ind.
Marvin Moeller —Eldridge, Iowa
Brent Rogers — Scott City, Kan.
Spencer Sage —Champaign, Ill.
Kevin Wolf — Franklin Grove, Ill.
To learn more about MicroEssentials, visit MicroEssentials.com.